This post contains affiliate links, meaning I may get paid to support this site if you purchase through my links, at no cost to you. I only link to products I use and love myself. Please read my disclosure for more info.
My friend Iliana became a fully booked artist in less than three months. In that same time, she scored two big-deal dream illustration clients. She also sold over 50 different products thanks to her branding, website, social media, and search engine optimization.
Are you interested in using WooCommerce for selling art too? That's what Iliana (also known as Grow Mija) uses. When she decided to leave Etsy and team up with me, we set up WordPress, WooCommerce, and Printful to sell her art.
And she quit her day job!
After selling her art on Etsy for years, Iliana hit a plateau. When we met through Instagram, her sales weren't increasing every month. Days were full of printing, packing, and shipping orders. Her Instagram was growing, but slowly. She found her Etsy store limiting. She felt tired of paying fees to Etsy for every single purchase and paying to list items that didn't sell.
Iliana decided to change all of that by working with me to build a store, rebrand, and gain over 10k followers (she's currently at 20.8k!)
When we started to work together, Iliana's goals were high. She committed to herself and the life she wants. She rebranded and opened Grow Mija.
Using WooCommerce for selling art, she achieved all the other goals she made for herself too.
Here's everything that Iliana checked off her to-do list:
Leave Etsy behind
Create a secure shop with WordPress + WooCommerce
Fully automate order fulfillment with Printful
Optimize products and services for people to find through searching
Design a billboard in Los Angeles for We Rise LA
Work with Spotify
Start a mailing list and grow from 10k to 20k Instagram followers
Quit her day job to focus on Grow Mija full-time
I can't promise you that you'll be able to quit your day job too. However, if you learn from us, you'll be well on your way to growing your business beyond Etsy by selling art with WooCommerce. Today's post breaks down the three things you need to do BEFORE starting your store. With your store, you can meet new clients, find friends, and connect with collaborators. We're talking about how to get your website on-point with a strategy to back you up.
Hours of research and analysis helped us find the most affordable way that Iliana can host a secure store and sell art on a way larger scale than Etsy. We considered other options like Shopify. But ultimately Iliana decided that WooCommerce is perfect for selling art. I'm going to explain how you can prepare for your shop. First I'll explain why Iliana loves using WooCommerce.
Why Iliana loves selling art with WooCommerce
You can sell anything with WooCommerce, including digital products.
Thanks to WordPress and WooCommerce developer communities, there are tons of integrations available that are perfect for selling Iliana's art.
Printful, the tool Iliana used to automate her shop connects to WooCommerce (more on that if you stick around and read until the end).
The plugin is super customizable thanks to plugins like Beaver Builder, Beaver Themer, and WooPack that Iliana gets through her web care plan.
The SEO tools Iliana uses to describe her products for humans and search engines work well with WooCommerce.
Running her art shop with WordPress and WooCommerce gives Iliana time to develop limited edition seasonal lines of products for her fans and followers.
She saves time selling art with WooCommerce, which means she can take more time to work on commissions. The flip side of that is she also has more commissions to manage (hopefully not the worst problem to have 😬). We optimize WooCommerce for search engines. That means that every product is a new way to find Iliana. Now she always has a waiting list for commissions.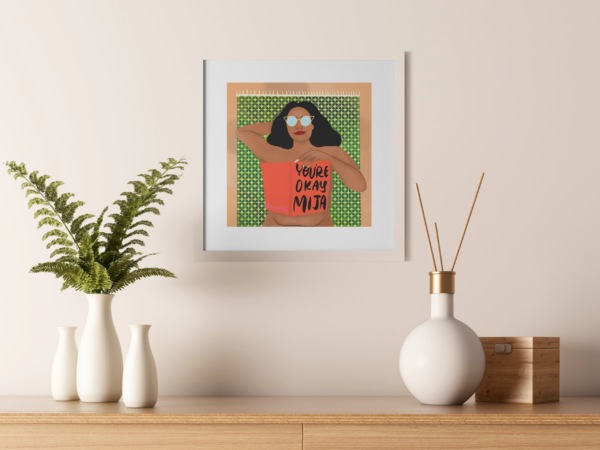 So what are the best ways to get ready to use WooCommerce for selling art?
Most importantly, don't rush. Some people work well with tight deadlines. I don't work well with tight deadlines anymore after I burned out in my mid-20s, but that's a different story. So when I worked with Iliana to launch her store, we didn't restrict ourselves. We didn't try to get everything done in a few days. We took the time to be thoughtful while creating growmija.com. Through this process, we found a few commanding steps that Iliana took. Follow her lead. Get in the perfect position to open (or relaunch!) your store, sell art, and get your dream clients.
Before you get started, you need to get a clear understanding of your current priorities and obligations. When Iliana launched her store, she worked long shifts at the hospital every weekend. She also spent the week caring for her son full-time. Clear expectations built a strong foundation for her shop.
#1: When Planning to Sell Art with WooCommerce, Set Expectations and Make Your Timeline
Iliana was realistic about her sales expectations. She made a timeline for herself, and you should create one too. It's okay if it takes you longer than four weeks to launch your store. Above all, as long as you're honest with yourself about your timeline from the beginning of the project, you're doing okay. Our 4-week plan for creating a store is easy to update so you can meet your personal needs and schedule.
When Iliana and I work together, we consider how much work there is to do. Then we make a timeline that we use to check in with each other. Asking friends for support with your schedule helps set healthy expectations (without too much pressure added, hopefully!)
#2: Find a Method for Developing Your Products and Create Documentation
Figure out what products are you selling and who are you selling them too? These areas can change over time but make sure to write out a list of your first product line. For each product, make notes about the perfect customer you have in mind. This is known as a "persona" and will be helpful to recall during your store design.
Document the process that you go through from starting with an idea and ending with a finished product. I love the 39 step checklist for launching products from the $100 Startup. This checklist inspired part of Iliana's product development method. Use one of your products to go through the spreadsheet. Find which sections of the process will work for your store.
Make sure to document your method for developing products. I recommend starting with a simple spreadsheet or writing the steps out in a bulleted list. Think of your documentation as a living plant that will grow over time. As your store grows, you can add customer feedback to your documentation to take into consideration when developing new products.
#3: Find the Perfect Flow for Running Your WooCommerce Store
Imagine your online store is open, and users are visiting at all hours of the day. How would you like to spend your time? Do you see yourself printing and mailing your art all day? Or do you see yourself creating new designs, looking for inspiration? How are you talking with clients? How much time do you want to spend managing social media and responding to DMs? When using WooCommerce to sell art, how do you want your time to flow?
There's a lot of questions to consider. However, planning a flow isn't as dull as "defining a workflow" or making a list. To find your flow, imagine a day in your future. Write out how you want to spend your time before, during, and taking care of your store. After writing a flow, ask yourself, what parts are necessary every day?
These essential rituals will sustain you throughout the process of building your store and launching your first line of products. Use the routines you love every day. Even on days when you have to travel or visit a client in person. Drinking mushroom tea is a core part of my flow every morning. Nothing can stop me from enjoying a cup while spending time with my husband. Caring for plants and taking baths are core parts of Iliana's flow. And she did a lot of both during her 4-week launch!
BONUS TIP 🏆#4: Outsource or automate stressful tasks
When you run your store, tedious tasks are unavoidable. Well actually, some of them are avoidable. After printing and shipping herself for a while, Iliana decided to automate her store. She didn't want to spend time waiting for ink to dry or dropping off shipments anymore. Printful prints, packs, and ships custom printed products for Grow Mija. This gives Iliana everything she needs to run her online business from home with no inventory and upfront costs.
Iliana spent a lot of time dealing with the post office and creating each product by hand. Now Printful covers what was stressing her out most. She can focus on what she loves to do the most. She can create new product lines for her followers, draw new mijas, and collaborate with creative partners on visual projects. Including the badass billboard she designed for a non-profit in LA!
Let go of what stresses you out
Certainly, there are so many ways that you can automate and outsource management tasks. You can focus on your highest priorities. Are you happy with your production flow but stressed at the thought of writing copy to describe your products? Does web design or store security stress you out? You don't have to do everything by yourself! Check out my resource list to find the tools I use to automate stuff (and cope with anxiety). Discover the best flow that works for you to start selling your art with WooCommerce!